Thursday November 3, 2022
11:00 PM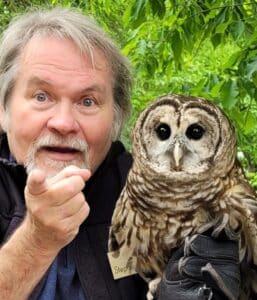 Owls are so mysterious. Being nocturnal, they are active when we are asleep and hidden during our daylight hours. We often hear them hooting in the darkness but do not know who or where they are. Learn all about the owls of East Tennessee and perhaps what's hooting in your woods!
Join naturalist, Stephen Lyn Bales, who has worked with owls for 24 years, and UT Arboretum education coordinator Michelle Campanis for the November First Thursday Nature Supper Club "Who's That Hooting?" and it will be about our local owls.
Due to some scheduling issues this addition will be pre-recorded. The program is free and closed captions are available.. Please register below to receive the recording. For any registration issues, please contact Michelle Campanis .
RSVP deadline is past