Thursday February 23, 2023
7:00 PM EST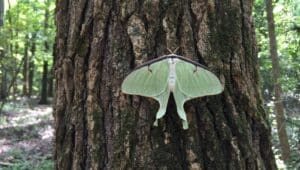 Join the UT Arboretum Society as we learn the connections between moths and our native plant species and the important roles these insects play in our natural communities. Presented by Lenny Lampel, Natural Resources Supervisor with Mecklenburg County Park and Recreation's Division of Nature Preserves and Natural Resources in North Carolina, this virtual presentation will be Thursday, February 23, 7 p.m. EST via Zoom.
Over the past decade, Natural Resources staff and local naturalists have spent many late nights in the nature preserves, parks and greenways in and around Charlotte, North Carolina as part of a coordinated effort to document the diversity of moth species that are found within Mecklenburg County.  Also highlighted in the program will be Mecklenburg County's growing moth collection which is housed at the Dr. James F. Matthews Center for Biodiversity Studies.  Learn about some of the challenges to identification and the growing number of resources that make learning about these insects possible.  From "Moth Nights" to "National Moth Week" events, an increasing number of people are getting interested in "mothing." Now is your chance to discover what the fascination in these insects is all about!
Lampel is also the Curator for the Matthews Center and is responsible for the management of biological assessments and inventories, the monitoring of federal and state listed rare plant species and the coordination of various fauna and flora studies and projects. Lenny holds an MS in Environmental Studies with a concentration in Conservation Biology from Antioch University New England and a BA in Biology from SUNY College at Old Westbury. Lenny lives in Concord, NC with his wife, three children and their big, furry dog and cat.
The program is free, but registration is required to receive your Zoom link and the recording. Closed captions are available.
RSVP deadline is past