Friday January 6, 2023
7:00 PM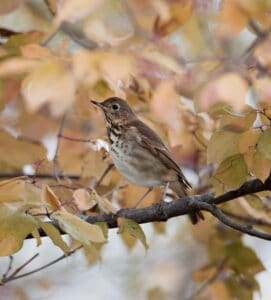 Winter is an excellent time to look for birds. Most of the leaves are gone from the trees and the birds are more visible, plus there are several bird species that are only here in the cold weather months because they migrate from farther north or higher elevation to find food.
Join Michelle Campanis, education coordinator at the University of Tennessee Arboretum, and naturalist Stephen Lyn Bales via Zoom for an overview of winter species like dark-eyed junco, hermit thrush, yellow-bellied sapsucker, purple finch, winter wren and many more!
It's the "Brrrrr-irds of Winter," our first UT Arboretum First Thursday Supper Club of 2023 is January 5 at 7 p.m. via Zoom. The program is free but registration is required to receive your Zoom link and the recording. Closed captions are available.
Contact Michelle Campanis for questions or registration issues..