Monarch release, UT Insect Zoo, speakers and children's activities are highlights
The University of Tennessee Arboretum Society will present its Second Annual Butterfly Festival on Saturday, July 29, from 10:00 a.m. to 2:00 p.m. at the UT Arboretum Auditorium and surrounding grounds, 901 S. Illinois Avenue in Oak Ridge.  It is cosponsored by the UT Forest Resources AgResearch and Education Center. The gate will be open at 9:30 a.m., with coffee and donuts available.  The event will take place rain or shine.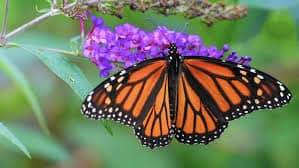 The event, which drew hundreds of area participants in 2016, is designed for children and adults of all ages. There is ample parking in designated areas of the Arboretum adjacent to the event.
The day's highlight will be the release of 100 butterflies, some at noon and the remainder at 2:00 p.m. We invite children to help release the monarch butterflies, which will be offered at a cost of $10 per butterfly. Cash or credit cards will be accepted.
Nationally recognized author Rita Venable is the keynote speaker. An award-winning writer, photographer and butterfly expert, Rita will speak about "Small-scale Butterfly Gardening" at 10:00 a.m. At 1:00 p.m., she will speak on "Butterflies of Tennessee," the subject of her popular book. Her book will be available for purchase and signing.
Local nature educator Kris Light will present a talk at 11:00 a.m. entitled "Butterfly Bonanza." Kris is a frequent speaker at the UT Arboretum as she leads wildflower hikes in the spring and fall.
The festival will feature five local artisans and one native plant vendor, Tennessee Naturescapes of Clinton. Food vendors include Dano's Hotdogs, featuring hotdogs, hamburgers and lemonade. Mediterranean Delight will offer Middle Eastern fare.  The UT Arboretum Society will be selling bottled water and soft drinks for $1.00 each.
From 11:00 a.m. to 1:00 p.m., there will be music by Boogertown Gap, an old-time string band. Craft activities will be available for children at a cost of $1 ticket per activity or $5 for six tickets.
Children of all ages will enjoy the UT Insect Zoo, a traveling exhibit of insects. The goal of the Insect Zoo is to have fun while sharing knowledge of insects with others to help them appreciate the important role of insects in our environment. The Insect Zoo showcases preserved and live insects and their relatives (scorpion, tarantula, etc.) found in Tennessee and throughout the world. Kids can get "up close and personal" with such insects as the Madagascar hissing cockroach.
Celebrating 52 years in 2017, this program is one of many lectures and activities that will continue to be offered this year by the UT Arboretum Society. The program is cosponsored by the UT Forest Resources AgResearch and Education Center.
The Forest Resources AgResearch and Education Center which celebrated its 50th anniversary in 2014, is one of 10 outdoor laboratories located throughout the state as part of the UT AgResearch system. AgResearch is a division of the UT Institute of Agriculture. The Institute of Agriculture also provides instruction, research and public service through the UT College of Agricultural Sciences and Natural Resources, the UT College of Veterinary Medicine, UT AgResearch and UT Extension offices, with locations in every county in the state.
To learn more about the Arboretum Society, go to www.utarboretumsociety.org. For more information on the program, call 865-776-8227.